Incorporating superfoods into your diet can be life-changing. Unbalanced hormone levels, poor inflammatory response, mineral imbalance and improper fatty acid ratios are typically at the root cause of many mood disorders like anxiety and depression. By balancing these systems and providing the body with proper nutrition, improved mood and mental clarity can be achieved.
Learning from my own personal experience, here are the top five mood-enhancing superfoods that I encourage my clients to try
1. Sacha Inchi
This unique seed thrives on vines in the thick rain-forest regions of Southeast Asia and is similar to a nut in flavor but has a much richer nutritional content.
Sacha inchi contains high levels of anti-inflammatory omega-3 fatty acids (20x the omega-3 content as wild salmon) that are protective against systemic inflammation. This is extremely important considering a large body of new research suggests that depression is primarily caused by inflammation.
This seed is also full of tryptophan, a precursor for serotonin. Known as "the happy hormone," serotonin is a neurotransmitter that is thought to stabilize mood and contribute to a sense of happiness and well-being.
Sacha inchi is rich in iron, potassium, magnesium, and calcium. One of iron's health benefits is its ability to aid the proper flow of blood to the brain, which can stimulate cognitive activity and even create new neural pathways. Magnesium is also known to calm the nervous system, aid in sleep, and relax muscles.
I usually add sacha inchi seeds to my salads, trail mix, pesto, and enjoy a sacha inchi protein powder mixed into my smoothies, gluten-free oatmeal, or baked goods.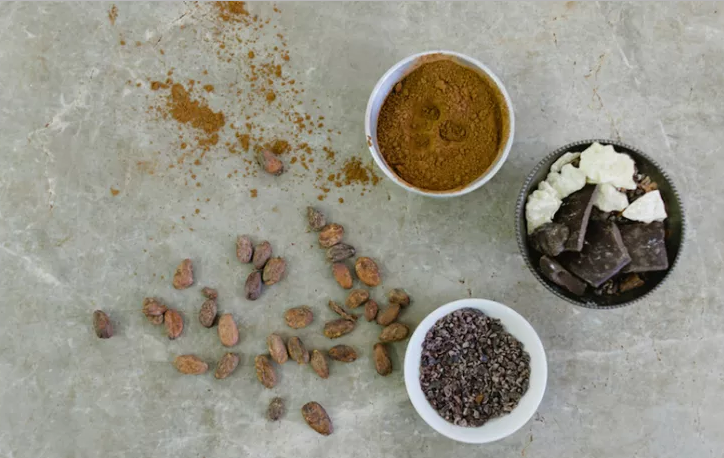 2. Cacao (whole bean, nibs, or powder)
Not to be confused with sugary, processed chocolate bars, raw cacao beans and cacao products are made from raw, nonroasted cacao beans. The beans are typically fermented inside the pod itself to rid the beans of their bitter and astringent flavors, then dried to remove excess moisture before storing, shipping, etc.
Raw cacao contains high levels of magnesium and other essential minerals including calcium, sulfur, zinc, iron, copper, potassium, and manganese that support proper neurological function. Cacao has natural mood-boosting compounds like anandamide and theobromine, which help with mood imbalances like depression. This superfood also contains high levels of various B vitamins (B1, B2, B3, B5, B9) that are important for proper neurotransmitter creation.
Most notably, raw cacao contains high levels of polyphenols called flavonoids, that are proven to "protect neurons from damage induced by neurotoxins, reduce neuroinflammation, and promote memory, learning, and cognitive function."
I love adding cacao powder and nibs to smoothies, oatmeal, gluten-free baked goods, and dairy-free yogurt.
3. Collagen peptides
Collagen is the most abundant protein (amino acids) in the human body, typically found in the bones, joints, and skin of vertebrates. This superfood has taken center stage recently in the nutrition world because of its incredible nutrient density and healing qualities.
Collagen contains 18 amino acids, eight out of nine essential to the human body. The highest content of amino acids that make up collagen include glycine, proline, hydroxyproline, and glutamine.
Glutamine has been proven to help with anxiety, insomnia, poor concentration, and energy. According to a report printed the American Journal of Clinical Nutrition, it's been shown to increase the production of growth hormone, which can help release GABA, a neurotransmitter that boosts feelings of "inner calm and tranquility."
I put collagen peptides in everything: cold and hot beverages, smoothies, baked goods, porridge, yogurt, and so much more.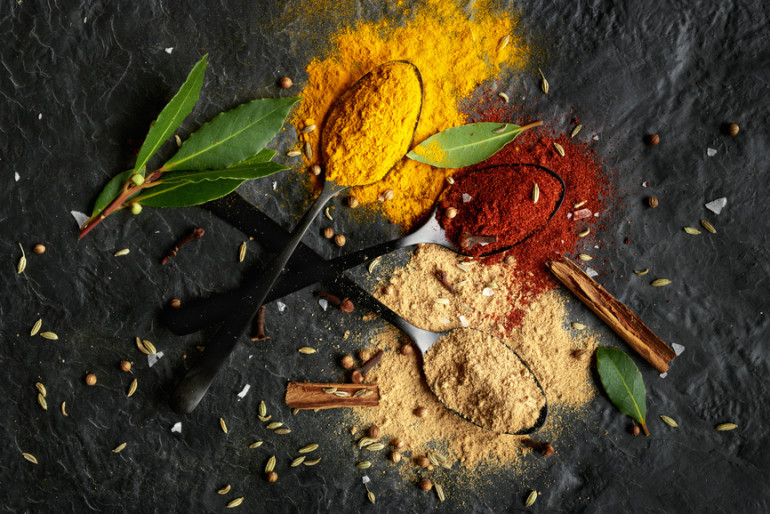 4. Maca powder
Maca is a nutritionally dense Peruvian root, historically known as an adaptogenic herb that is used to balance hormones, support mood, energy, stress, stamina, and libido. For reference, an adaptogen is a natural substance considered to help the body adapt to stress and to exert a normalizing effect upon bodily processes.
Maca contains high levels of calcium, iodine, iron, magnesium, phosphorus, and potassium. According to this study, maca, "reduces psychological symptoms, including anxiety and depression" and has positive effects on energy, stamina, and mood.
Scientists are still not entirely sure how this adaptogenic herb works on a cellular level, but we do know this superfood helps to stabilize blood sugar levels and support adrenal health, which are responsible for regulating mood and energy throughout the day.
I like to consume 1 tablespoon of maca each day and love the flavor in my hot drinks, baked goods, and smoothies.
5. Ashwagandha
Ashwagandha is a small, bush-like plant native to the dry regions of India, northern Africa, and the Middle East. It's an adaptogenic herb, just like maca but with slightly different nutritional value and mechanism of action.
Ashwagandha, like most other superfoods on this list, contains a plethora of minerals such as calcium, magnesium, copper, zinc, cobalt, iron, and flavonoids. This adaptogen is known to reduce stress without making you tired or drowsy and actually gives you a nice boost of energy and sense of well-being.
A study found that after 60 days of consuming 300mg of ashwagandha, subjects with chronic stress and anxiety noticed a significant reduction in stress and the cortisol (stress hormone) levels in the bloodstream were substantially reduced.
Original post written for Mind Body Green. View post here.